Interview with Dindin & Dandan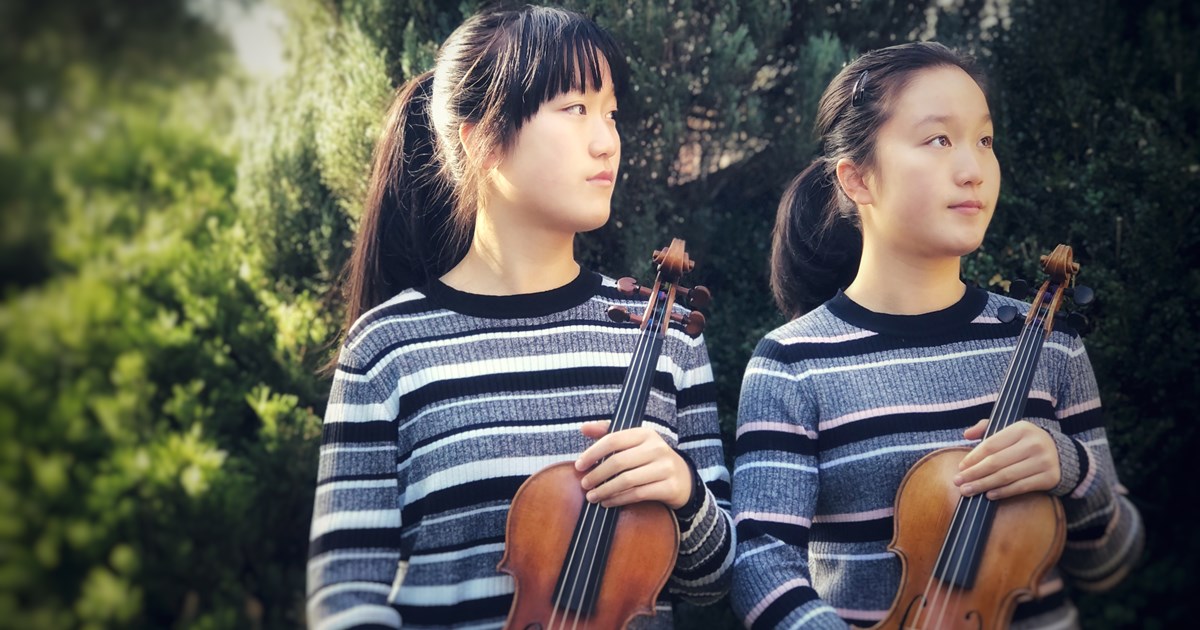 Dindin and Dandan Wang talk about what they're looking forward to at the Curtis Institute of Music, what they're listening to at the moment, and playing Bach as soloists with the Melbourne String Ensemble's 35TH anniversary alumni concert.
Interview with Imogen Williams
Why did you decide to play the Bach Concertos for this concert? Could you talk a bit about these pieces?
Dindin: Bach has been my favorite composer for as long as I can remember, and I have always wanted to play his Violin Concertos but never got a chance to. When the opportunity of being able to play it with orchestra came, I immediately decided that I wanted to play the E major Concerto by Bach. This piece has so many beautiful harmonies and the 2nd movement is one of the most sublime slow movements written by Bach in my opinion. The Bach Double Concerto is a classic and we have played it since we were young, and to top it off, we decided to include the virtuosic Navarra for 2 violins by Sarasate to give more variety in the program and something a little different for the audience.
Dandan: I chose these Bach Concertos for this concert because I've always played Bach's pieces since I was young, especially the solo sonatas and partitas, but I never had a chance to play the violin concertos, so I thought this would be a good chance to work on them and play with MSE. We played the Double Concerto together when we were young and I played the 2nd violin part, I always wanted to play the 1st violin part as well, so we decided to play this piece and switch parts this time. As for the Sarasate, we thought it could bring extra flavor to the all-Bach program. since it is a totally different piece that would be very fun to perform.
You learnt with Fintan for six years. What are some of the most important lessons he taught you?
Dindin: Learning with Fintan has taught me so many important lessons which strongly shaped who I am as a musician today. One of the most important lessons he taught me was to always take things step by step and be patient when learning new things. Refining a piece takes a lot of time and you should never hurry ahead when you are not ready to.
Dandan: I would say some of the most important things I have worked on with Fintan was building my technique and fundamentals as a violinist. I have learned to teach myself when I practice and question myself from different perspectives and it benefitted me hugely because I was able to progress slowly one step at a time to constantly improve myself. I also learned to always look for different ways to interpret pieces and trying to explore new things in my playing and I think this helped me become more creative when interpreting different works.
…and, what did you like about being part of MSE?
Dindin: I loved playing in the Melbourne String Ensemble and I always looked forward to Saturdays where we would get together to rehearse and learn many valuable things about ensemble playing from Fintan. I absolutely love playing chamber music as well and playing in MSE gave me opportunities to learn different repertoire and have fun with my peers.
Dandan: I think being part of MSE was a very fun and rewarding experience for me. I have learned so much playing in an ensemble and working with other musicians in chamber groups and it really helped me build up my ensemble skills that will benefit me in all aspects of my musician life. I also always enjoyed coming to rehearsal every Saturday afternoon and being able to make music with my friends and perform concerts with everyone.
Ida Kavafian, your new teacher at Curtis, says her job is "to make her students a better version of themselves." At this stage in your playing, what are some of the areas that you would like to develop?
Dindin: I am still very lacking in many aspects as a musician, but right now I really want to develop my tone and vibrato. I believe that a musician's tone and vibrato is the DNA to their sound and what distinguishes their playing from other people, so I hope to be able to develop my own unique sound as well.
Dandan: I think at this stage, and throughout my whole life as a violinist, I would like to develop a sound that is very personal and unique to me. I want to refine my playing style and explore more variety and depth with my music. I think this will help me convey my emotions to the audience in the way that I want them to hear.
Let's talk more about the Curtis Institute of Music. What will daily life look like there? What are you especially excited about?
Dindin: I am very excited about going to Curtis in the fall! I am not quite sure yet what my daily life will look like, but I am really looking forward to meeting and learning from all the other amazing musicians there. I am excited about playing chamber music again after more than a year being stuck at home as well as playing in the Curtis Symphony Orchestra. I am also really excited about studying with Ms. Kavafian and just being surrounded by the whole musical environment there.
Dandan: I'm not quite sure what daily life will look like at Curtis since school hasn't started yet. But I'm especially excited about working with Ms. Kavafian as well as meeting all the wonderful students and faculty there. I also can't wait to play chamber music again and also playing in a symphony orchestra.
I read an interview with Ray Chen in which he says he listens to all sorts of music – apparently he listens to Hawaiian music on holiday! What are you listening to at the moment?
Dindin: These days, I love listening to piano music. I am really into French music lately and I really like Debussy, Ravel, and Satie.
Dandan: I'm always listening to many different interpretations of pieces I'm working on to see how others interpret the same work differently to me. I also enjoy listening to chamber music such as Schumann's Piano Quintet as well as piano pieces such as Debussy's Suite Bergamasque. 
Lots of people are fascinated by kids who have specialised at a young age. When my cousin came to Melbourne from WA to study at the Australian Ballet School, she was the same age as you are now. I was bursting with questions! What sorts of things do people ask you about how your days look?
Dindin: Since all of my friends are musicians, I don't really get any questions about how my days look like as everyone's days look pretty similar. But talking with some non-musicians in the past, I think a question I get asked a lot is 'Do you practice every day?'. This question may seem very funny, but I actually don't practice every single day, I often take breaks from playing the violin and some days, I only do mental practice or just listen to the piece instead of actually practicing.
Dandan: Actually, not many people ask me about how my days look since the people I'm usually around are musicians who have the same schedule as me! But when I do get asked questions, it's usually like "how many hours do you practice every day" and "do you have to learn stuff like maths and science at music school as well".
I

f you could choose to play anything, in a venue of choice and with your accompaniment of choice, what would it be?

Dindin: This is a very difficult question as there's so much repertoire I want to play and so many places I want to play at. I really don't think I can pick a place, but I hope that one day, I can play the entire 6 solo sonatas & partitas by Bach in one concert. It seems very impossible for me now, but I hope to do this at least once in my life.

Dandan: I would like to play all three of the Brahms Violin Sonatas with piano in one concert when I'm older. I really love the Brahms Sonatas and I wouldn't mind playing it anywhere. I think I want to play it anywhere where people would enjoy it and want to listen to it!

 

Thanks so much for chatting with me today! All of us at MSE will be thinking of you and following your journey with great fondness and a little bit of pride too!
Melbourne String Ensemble acknowledges the Wurundjeri, Woi-Wurrung people of the Kulin Nation, upon whose Country we are based and recognises their continuing connections to community, culture and country.  We pay our respect to their Elders past and present and extend that respect to all Aboriginal and Torres Strait Islander peoples today.